IF YOU HAVE GOALS, YOU HAVE TO EAT RIGHT.
With Lion's Share, you get a hot organic meal in just 3 minutes. Our meals contain everything your body needs: complex carbohydrates, essential fatty acids, plenty of protein and fibre. All meals can be kept unrefrigerated for over 1 year and are therefore super convenient for on the go and at home. 
BEST NUTRITIONAL VALUES.
ALWAYS THERE FOR YOU WHEN YOU NEED IT.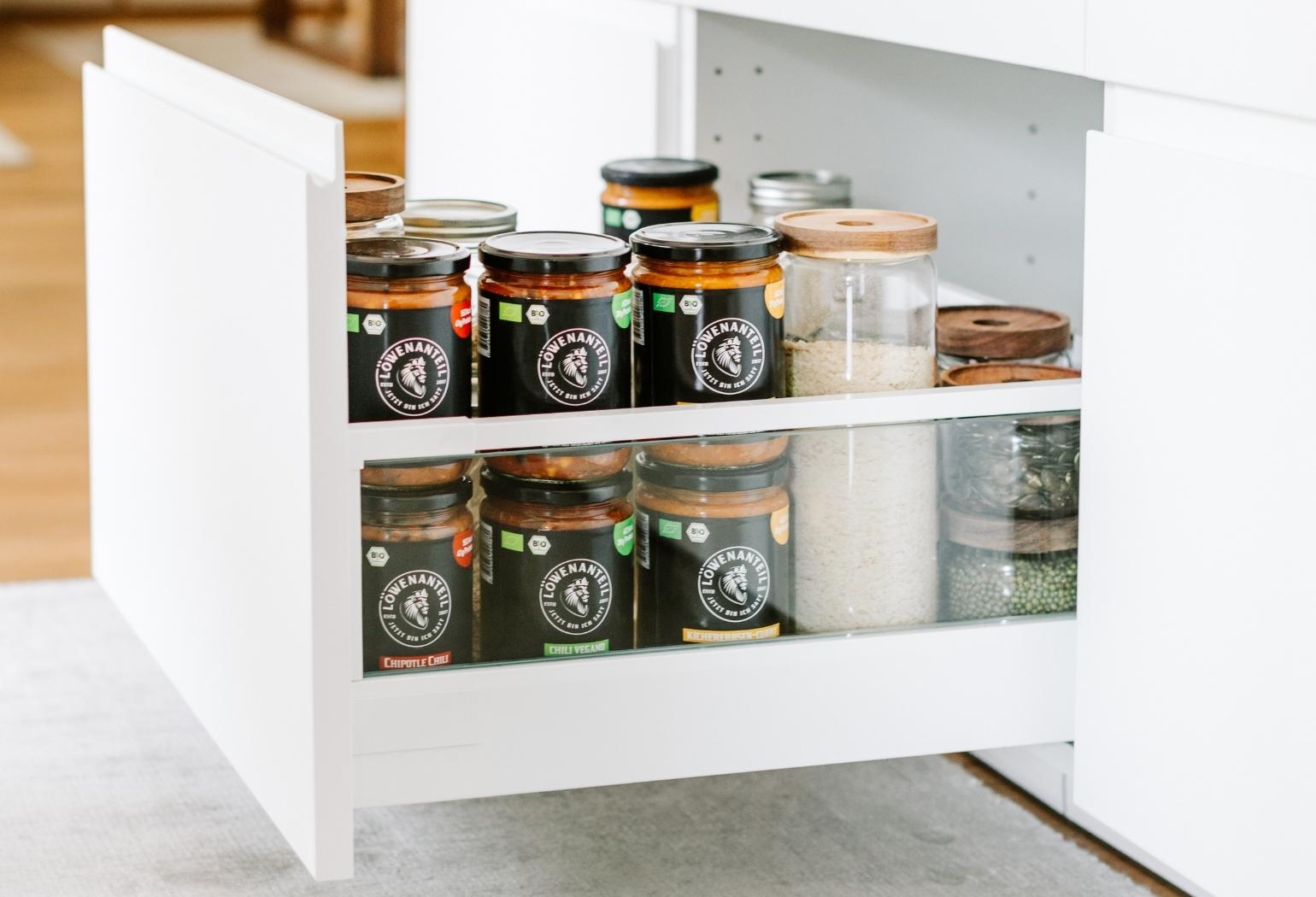 Löwenanteil is the perfect alternative when you don't have time or don't feel like cooking yourself. Our dishes can be kept for over a year without refrigeration! Our practical jars are also easy to store and save you valuable space in your fridge. So you always have a balanced meal available and you finally get continuity in your diet!
Ingredients: Chickpeas* 24%, tomatoes*, soy* (soy granules*, Water), onions*, water, coconut milk* (coconut* 57 %, water), carrots*, salt, coconut fat*, sultanas* (sultanas*, sunflower oil*), Tropical Curry 0.8%* (spices (turmeric*, ginger*, chili*, garlic*, fennel*, cinnamon*, coriander*), pineapple*, bread clover*, onion*, mango*, beechwood smoke), hemp seeds*, garlic*, tomato paste*, ginger*, chili*.
*from controlled organic cultivation

Nutritional values
per 100 g
per glass (570 g)
Calorific value
473 kJ/113 kcal 
2688 kJ/642 kcal 
Fat
of which saturated

4.0 g
3.3 g

22.8 g
18.8 g
Carbohydrates
of which sugar**

12.9 g
3.8 g
73.5 g
21.7 g
Dietary fibre
3,9 g
22,2 g
Protein
5,5 g
31,4 g
Salt
0,90 g
5,13 g
sugar contained naturally
1.
Place the contents on a plate and microwave for 2-3 minutes.
2.
Alternatively, heat the contents briefly in a saucepan.
Chickpea curry
Vegan
High in protein
High-fibre
without added sugar
Gluten-free
Our vegan chickpea curry makes a meat-free diet a pleasure! With creamy coconut milk and protein-rich hemp seeds.
From natural organic food
Rich in protein & fibre
Full of energy & filling
Without a midday slump
Kostenloser Versand ab €59
Das schmeckt ja so insane, eines meiner Lieblingsgerichte so gut!
Verified buyer
Answers to your questions
FAQ
With 570 g per jar, our meals are significantly larger than usual ready meals. One jar contains two portions. 
Our organic dishes are basically suitable for everyone who wants to eat a balanced diet in everyday life.
Athletes benefit from a high protein content and optimal nutrient distribution. 
We use 100% natural organic food for our dishes and completely avoid additives and added sugars. All our dishes have a very balanced ratio of high-quality proteins, fats and complex carbohydrates.
Our meals can be kept unrefrigerated for over a year. After opening, the meals can be kept in the refrigerator for at least 3 days.

We have developed an elaborate process for preservation. The meals are gently heat-treated so that we can guarantee a long shelf life without additives. Regular laboratory tests confirm this.
The satiety factor of our dishes is very high. This means you stay full for a long time, even if you have eaten relatively few calories. So you can get through your diet without torture.
Yes, all meals are lactose- and gluten-free.
UNSER LÖWENRUDEL AUF INSTAGRAM
Poste ein Bild deiner Bestellung mit dem #endlichsatt und verlinke
uns auf Instagram. Mit etwas Glück reposten wir dein Bild.
At a glance
Your chickpea curry
Chickpea curry with an oriental touch
We love versatile and nutritious foods like chickpeas. They allow us to combine balanced nutrition with good taste. Few people know that chickpeas are a high-yielding and completely plant-based source of protein. We have used this property of the legume in our chickpea curry. Because we never compromise on taste, we have given this fitness dish an oriental touch. We also use powerful spices like turmeric and refreshing ingredients like coconut milk. By using purely plant-based products, our chickpea curry is vegan. As always, we focus on organic quality and use ingredients that are good for you and your body.
Chickpea recipes are popular
Chickpeas have become very popular in recent years. There are now countless chickpea recipes on the internet, such as salads, stews and other dishes. As with all our ready meals, a good nutritional balance is very important to us in our chickpea recipe. That's why we use ingredients like hemp seeds, which further increase the protein content of our chickpea curry. In addition, this fitness dish contains healthy vegetable fats and important dietary fibres. These ingredients set our chickpea curry apart from other recipes with chickpeas. We get the most out of the legume and combine it with other tasty and healthy ingredients.
Never cook chickpeas again
We want to make healthy eating as easy and quick as possible for you. This includes not spending valuable time preparing healthy dishes. That's why all you have to do is heat up our fitness dishes and you can enjoy them within minutes. We understand how time-consuming healthy and balanced nutrition can be. That's why we would like to take this part off your hands. So you can focus on other aspects of your healthy lifestyle. Healthy eating should not depend on your motivation and time. It's too important for an active life. With our curry, for example, you'll never have to cook chickpeas again, but you can still benefit from the important nutrients of the legume.
Why chickpeas are healthy
As already mentioned, chickpeas are a vegetable source of protein and thus an interesting food for every athlete. We are convinced that you should not rely exclusively on animal sources of protein. Besides the important protein, chickpeas contain vegetable fats and dietary fibres. Creativity and variety in food play an important role, especially for athletes. Due to a lack of knowledge or too little time, many athletes eat a very monotonous diet. If you are one of these people, we would like to help you. We build on nutrient-rich foods like chickpeas and combine them with other healthy and delicious ingredients. In this way, we support your sporty lifestyle and pamper your palate.
Löwenanteil Chickpea Curry - Your Powermeal
Our chickpea curry is the right fitness food for everyone who wants to get good protein quickly without having to cook for a long time first. The chickpea curry comes to your home ready to eat and fresh in a screw-top jar - you can enjoy it cold or warm, as you like it! It makes sense to use chickpeas for vegan curry, because they are true protein bombs and also very tasty. It can be enjoyed by vegans without hesitation and with the extra portion of protein, our chickpea curry is also available with organic basmati rice or organic quinoa on request!
Chickpeas nutritional values - what's in them?
Chickpeas are an excellent fitness food because they are a quick source of protein. In order to build muscles, your body needs building blocks - and these building blocks are proteins. What exactly are the nutritional values of chickpeas? On the one hand, you will of course find the exact nutritional information on our jars of chickpea curry - on the other hand, we can say: chickpeas are an often underestimated food! They are full of healthy fats and proteins and also have relatively few calories. Perfect for meeting the nutritional needs of athletes. You can enjoy our chickpea curry without expecting a midday slump - instead you can go about your day full of energy. The chickpea nutritional values are geared towards an active daily routine.