IF YOU HAVE GOALS, YOU HAVE TO EAT RIGHT.
With Lion's Share, you get a hot organic meal in just 3 minutes. Our meals contain everything your body needs: complex carbohydrates, essential fatty acids, plenty of protein and fibre. All meals can be kept unrefrigerated for over 1 year and are therefore super convenient for on the go and at home.
BEST NUTRITIONAL VALUES.
ALWAYS THERE FOR YOU WHEN YOU NEED IT.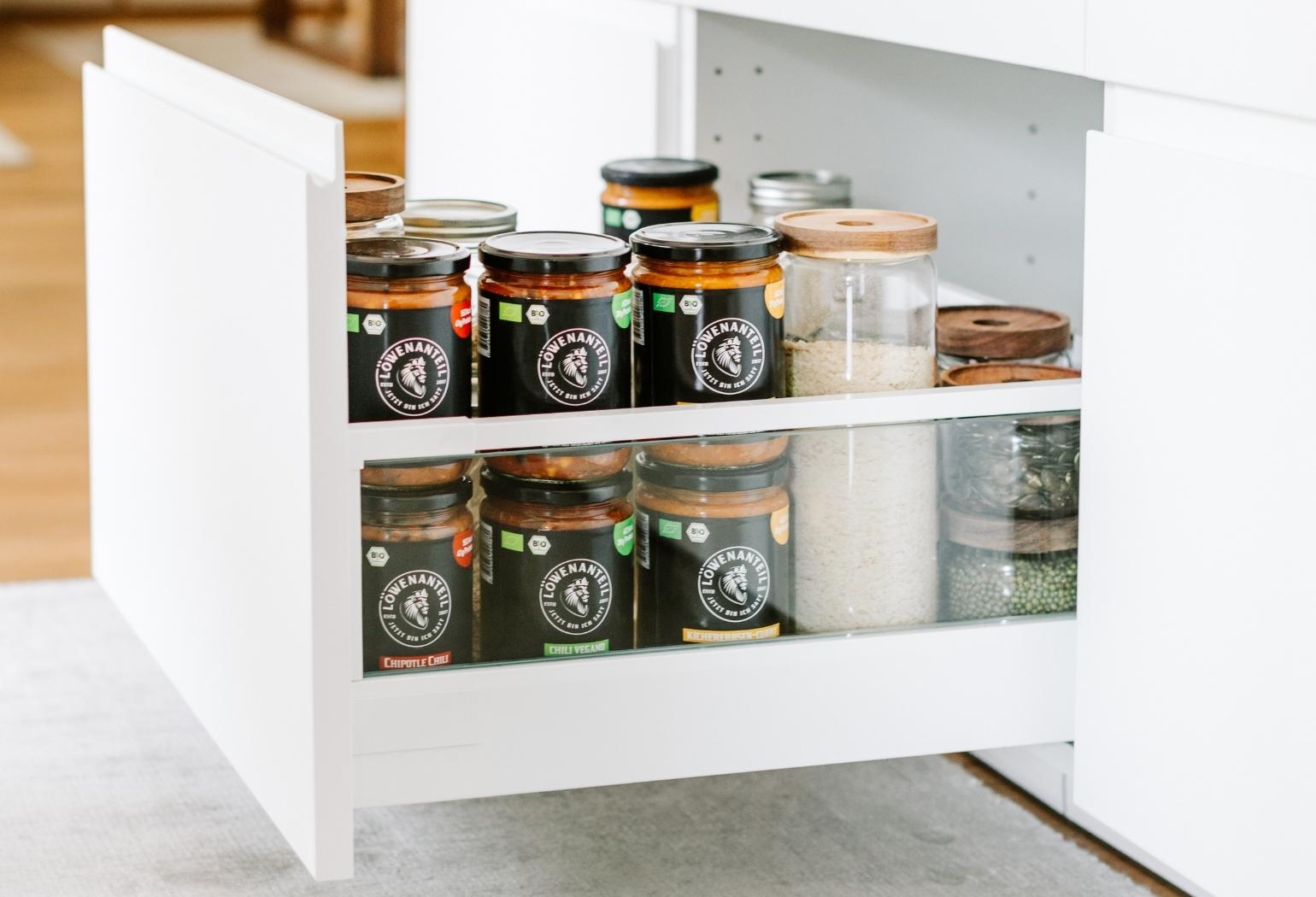 Löwenanteil is the perfect alternative when you don't have time or don't feel like cooking yourself. Our dishes can be kept for over a year without refrigeration! Our practical jars are also easy to store and save you valuable space in your fridge. So you always have a balanced meal available and you finally get continuity in your diet!
Ingredients: lentils cooked* 24.9% (lentils*, water), water, tomatoes*, white pearl beans cooked* 10% (white pearl beans*, water), potato*, tomato paste double concentrated*, celery*, onion*, pumpkin*, rapeseed oil*, carrots*, table salt, starch*, garlic powder*, spices*, herbs*.
*from controlled organic cultivation
Nutritional values
per 100 g
per glass (570 g)
Calorific value
474 kJ/113 kcal 
2701 kJ/642 kcal 
Fat
of which saturated
2,9 g
0,3 g 
17 g
1,7 g
Carbohydrates
thereof sugar** 
15 g
1,6 g
86 g
9,1 g
Dietary fibre 
2,9 g
17 g
Protein
5,2 g
30 g
Salt
0,80 g
4,6 g
sugar contained naturally
1.
Place the contents on a plate and microwave for 2-3 minutes.
2.
Alternatively, heat the contents briefly in a saucepan.
Lentils à la Provence
Vegan
High in protein
High-fibre
without added sugar
Gluten-free
Our vegan lentils à la Provence take you on a taste journey to the south of France. With lentils, white beans and juicy Hokkaido pumpkin. 
From natural organic food
Rich in protein & fibre
Full of energy & filling
Without a midday slump
Kostenloser Versand ab €59
❤️ einfach köstlich und schnell zubereitet....als 4-fach Mama eine schnelle und vor allem leckere Mahlzeit 👍
Verified buyer
Answers to your questions
FAQ
With 570 g per jar, our meals are significantly larger than usual ready meals. One jar contains two portions. 
Our organic dishes are basically suitable for everyone who wants to eat a balanced diet in everyday life.
Athletes benefit from a high protein content and optimal nutrient distribution. 
We use 100% natural organic food for our dishes and completely avoid additives and added sugars. All our dishes have a very balanced ratio of high-quality proteins, fats and complex carbohydrates.
Our meals can be kept unrefrigerated for over a year. After opening, the meals can be kept in the refrigerator for at least 3 days.

We have developed an elaborate process for preservation. The meals are gently heat-treated so that we can guarantee a long shelf life without additives. Regular laboratory tests confirm this.
The satiety factor of our dishes is very high. This means you stay full for a long time, even if you have eaten relatively few calories. So you can get through your diet without torture.
Yes, all meals are lactose- and gluten-free.
UNSER LÖWENRUDEL AUF INSTAGRAM
Poste ein Bild deiner Bestellung mit dem #endlichsatt und verlinke
uns auf Instagram. Mit etwas Glück reposten wir dein Bild.
At a glance
Your Lentils à la Provence
Lentils as an underestimated source of nutrients
When you think of protein sources, lentils probably don't come to mind immediately, if at all. Many people might rather think of the little-loved lentil soup from childhood when they hear the keyword. In fact, however, lentils are a very versatile and nutrient-rich legume. They convince with a high protein content and important dietary fibres. This makes them the perfect base for our fitness dishes. We love lentils precisely because of their underestimated role. Our Lentils à la Provence are a vegan ready meal with a high protein and vitamin content. We are convinced that a plant-based diet can also have benefits for athletes and are proud of our vegan alternatives.
Our lentils recipe has it all
Lentils are often criticised for tasting boring or even bland. We would like to strongly disagree with this. As with any food, the taste depends largely on how it is prepared. There are certainly lentil recipes that taste a bit dull due to a monotonous choice of ingredients. But not our Lentils à la Provence. This ready-made dish convinces with a variety of flavours. The use of tasty vegetables such as Hokkaido pumpkin and spices such as nutmeg creates a Mediterranean delight that we are proud of. We are convinced that recipes with lentils have great potential precisely because of their strong nutritional balance. With our dishes as fuel, you too shall unleash your full potential.
Why lentils are healthy
Lentils are an excellent and purely vegetable source of protein. However, few people are aware of this fact alone. Due to their natural protein content, lentils are an important food for athletes who eat a mainly or completely plant-based diet. But even those who eat meat should not underestimate lentils as an occasional alternative to animal protein. In fact, this legume is not only rich in protein, but also contains healthy fats and natural fibre. This makes lentils an effective source of energy, providing you with plenty of power for your next workout. All these properties make lentils healthy and an important building block for an active lifestyle.
Never soak lentils again
In addition to good taste and nutritional balance, our fitness dishes focus on efficiency. We want to make it possible for you to live healthy and give your body the nutrients it needs without spending a lot of time. It's no secret that varied and healthy cooking can be very time-consuming. Between work, sports and leisure, many people have little time and motivation to also take care of proper nutrition. We totally understand that. That's why we have developed fitness recipes that taste delicious, contain important nutrients and can be prepared in just a few minutes. For example, with our ready meals, you'll never have to soak lentils again. So you can focus on your priorities.
Lentil protein - uncomplicated, delicious, fast
Lentil protein is always a good idea for the body, especially in times of muscle building, as it is very easy to metabolise. Protein is, so to speak, the building block with which your body can build muscle. Even on a meat-free diet, you can maintain your protein balance without having to resort to animal products. Of course, the protein content of lentils is not the only advantage of these tasty little balls. In addition to protein, lentils also contain healthy fats and fibre, which are important and beneficial for an active lifestyle.
Lentils as the perfect sports food
It is often problematic to prepare food in a balanced way, because it simply takes a lot of time. Lentils in particular take a while to get ready for consumption. To make the lentil protein available to your body without messing up your schedule, our delicious lentils a la Provence are ready in about 3 minutes - and they're vegan, too. So you get an all-rounder for your body and muscles, it's quick to prepare, delicious and keeps for a long time - over 1 year unstirred! If you have any questions about our products or would like to learn more, please contact us, we are happy to help!