IF YOU HAVE GOALS, YOU HAVE TO EAT RIGHT.
With Lion's Share, you get a hot organic meal in just 3 minutes. Our meals contain everything your body needs: complex carbohydrates, essential fatty acids, plenty of protein and fibre. All meals can be kept unrefrigerated for over 1 year and are therefore super convenient for on the go and at home.
BEST NUTRITIONAL VALUES.
ALWAYS THERE FOR YOU WHEN YOU NEED IT.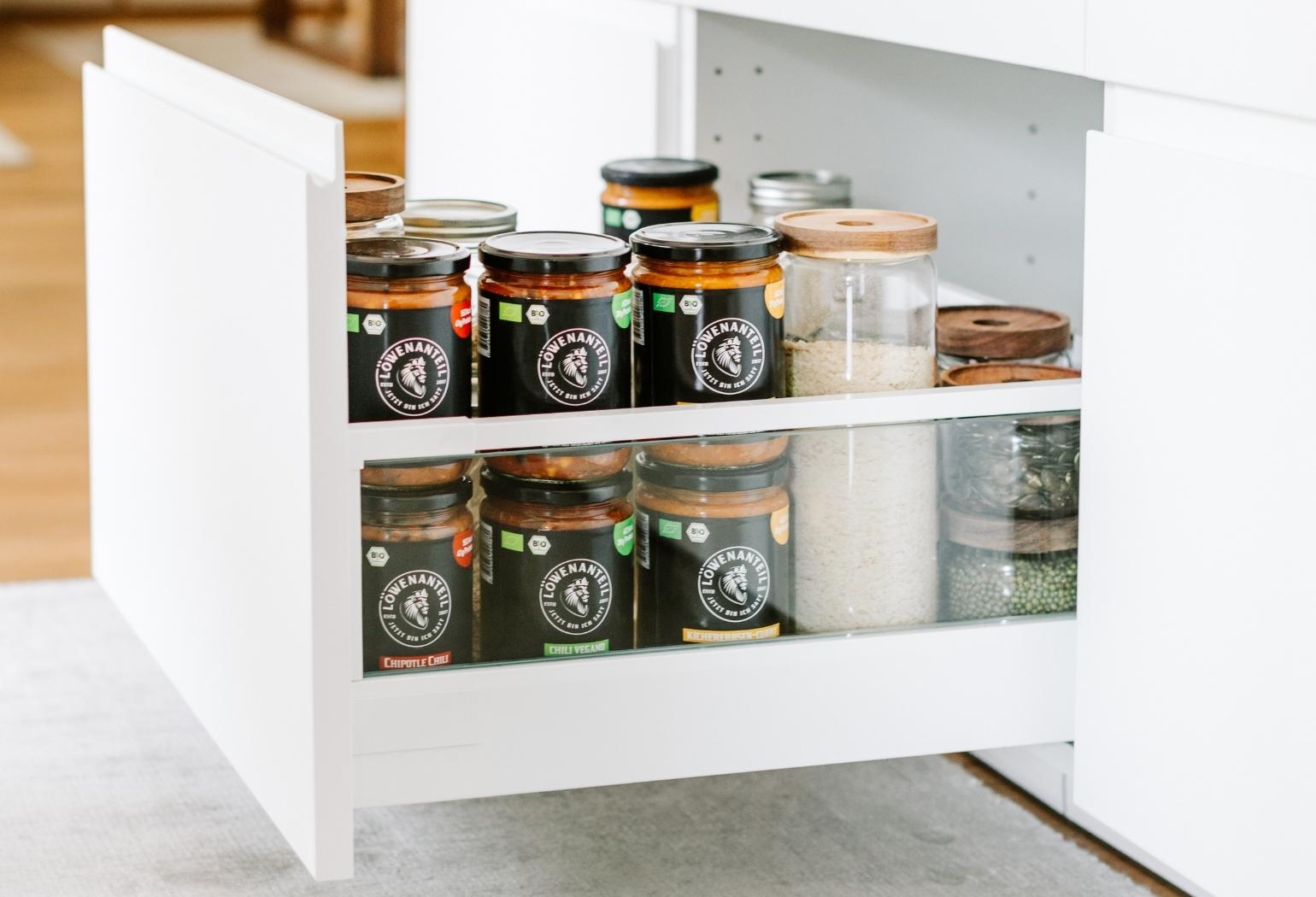 Löwenanteil is the perfect alternative when you don't have time or don't feel like cooking yourself. Our dishes can be kept for over a year without refrigeration! Our practical jars are also easy to store and save you valuable space in your fridge. So you always have a balanced meal available and you finally get continuity in your diet!
Ingredients: Water, tomatoes*, pinto beans* 9%, paprika*, coconut milk*, pea protein 6% (pea protein concentrate*, faba protein concentrate*, salt), sweet potatoes*, kale*, onions*, spice mix (turmeric*, paprika*, coriander*, ginger*, fenugreek*, chilli*, cinnamon*, pepper*, cardamom*, cloves*, cumin*, parsnips*, basil*, rock salt, natural cumin flavouring, natural lemon flavouring), tomato paste*, almonds*, garlic*, ginger*.
*From controlled organic cultivation
Nutritional values
per 100 g
per glass (570 g)
Calorific value
325 kJ/78 kcal 
1853 kJ/445 kcal 
Fat
thereof saturated
1.6 g
0.7 g 
9.1 g
4.0 g
Carbohydrates
thereof sugar** 
9.8 g
2.2 g
55.9 g
12.5 g
Dietary fibre 
3,0 g
17,1 g
Protein
5,5 g
31,4 g
Salt
0,53 g
3,02 g
sugar contained naturally
1.
Place the contents on a plate and microwave for 2-3 minutes.
2.
Alternatively, heat the contents briefly in a saucepan.
African Bowl
Vegan
High in protein
High-fibre
without added sugar
Gluten-free
In this delicious bowl, delicate vegan chicken meets delicious pinto beans, peppers and sweet potato in creamy coconut milk. Typical African spices give the dish an extraordinary flavour.
From natural organic food
Rich in protein & fibre
Full of energy & filling
Without a midday slump
Kostenloser Versand ab €59
Mit der African Bowl habt ihr Euch ein Denkmal gesetzt... geschmacklich TOP, Schärfegrad perfekt und das Hühnchen aus Erbsenprotein rundet die Bowl super ab!!!
Verified buyer
Answers to your questions
FAQ
With 570 g per jar, our meals are significantly larger than usual ready meals. One jar contains two portions. 
Our organic dishes are basically suitable for everyone who wants to eat a balanced diet in everyday life.
Athletes benefit from a high protein content and optimal nutrient distribution. 
We use 100% natural organic food for our dishes and completely avoid additives and added sugars. All our dishes have a very balanced ratio of high-quality proteins, fats and complex carbohydrates.
Our meals can be kept unrefrigerated for over a year. After opening, the meals can be kept in the refrigerator for at least 3 days.

We have developed an elaborate process for preservation. The meals are gently heat-treated so that we can guarantee a long shelf life without additives. Regular laboratory tests confirm this.
The satiety factor of our dishes is very high. This means you stay full for a long time, even if you have eaten relatively few calories. So you can get through your diet without torture.
Yes, all meals are lactose- and gluten-free.
UNSER LÖWENRUDEL AUF INSTAGRAM
Poste ein Bild deiner Bestellung mit dem #endlichsatt und verlinke
uns auf Instagram. Mit etwas Glück reposten wir dein Bild.